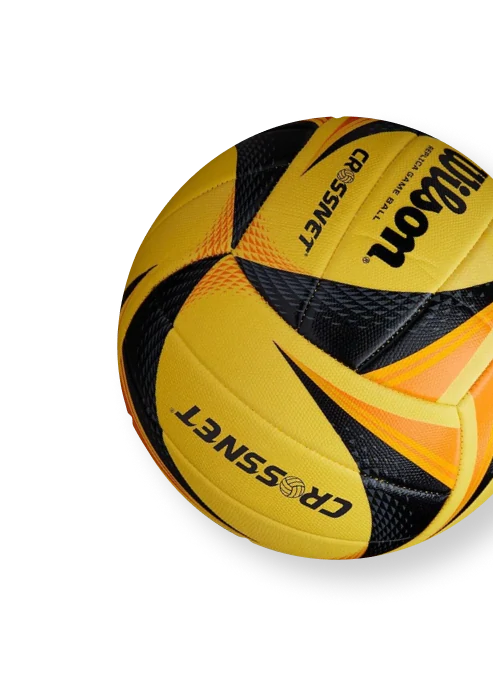 FAQ
What is CROSSNET?
CROSSNET features a four-way net and is size adjustable for children's, women's, and men's outdoor volleyball heights.
How do you score?
A point can only be scored when serving from the 4th square. If the player in the 4th square does not get eliminated during a rally, they score a point. Only the 4th square can score a point.
How do you win?
The first player to score eleven points wins. A player must win by two.
Where do you Serve from?
The player in the 4th square serves diagonally to the 2nd square. From there, the game is live, and the 2nd square can return the ball to any square.
Can you Return the Serve to Anyone
After the player in 2nd square receives the serve, they are allowed to return ball to any square.
Can you Spike?
Yes, you are allowed to spike. However, spiking to return the initial serve is not allowed.
How Tall is the Net?
The net is height adjustable for men's (7' 11"), women's (7' 4") and children's (5' 6") heights.
How Big are the Squares?
A CROSSNET square is 6'6" by 6'6".
What Size is the Ball?
The official CROSSNET ball is Size 5, 10-18 panels.
How Much Does CROSSNET Weigh?
CROSSNET weighs 17 lbs and can be transported in our easy to use travel backpack.
Can only Four People Play?
Only four people can be within each quadrant of CROSSNET at once. Additional players can form a line outside of the 1 square and enter once the volley is over. The player who is eliminated returns to the back of the line with the remaining 3 players rotating to the necessary positions. With our Doubles Net add on, 8 people total can play, with two people in each square. Our Doubles Net allows for the game to be a team sport.
Can CROSSNET be Played Indoors?
Yes, our Indoor Bases can be added to your CROSSNET to take all the action inside! The perfect solution to a rainy day (we like to play in our garage) and a great P.E. game for every season!
What Happens if the Ball Hits the Net on a Serve?
If the ball hits the net and lands in then 2nd square, it is a let. Person in the 4th square may redo the serve. Only one let allowed per set. If the ball hits the net and lands outside of the 2nd square, the person in the 4th square is eliminated and returns to the 1st square or back of line.
Can you Reach Over the Net?
After making an attack hit, you are allowed to pass your hand beyond the net, but the contact must have been made within your own playing space.
How Many Touches do you Have?
You only have one touch with your hands. After that, you are allowed to make contact with the ball with any other body part other than your hands (I.e. feet, head, knee, etc....feel free to get creative!)
What Happens if a Player Hits the Ball Over the Net and it Lands in the Adjacent Square that it Was Intended for?
The player in the square is eliminated in which the ball went over their side of the net for. Example: If a player hits the ball from Square 1 over the net through the quadrant of Square 2 and lands in Square 3, the player in Square 2 is eliminated
If the Ball Hits a Pole, is it Playable?
Yes, it is playable. Trick shots are actually a secret talent!
What is CROSSNET H2O?
All the same great CROSSNET fun, now in the water! CROSSNET H2O comes with net and floating base, travel duffle bag, inflatable neoprene ball, and pump. Dimensions are 13' x 13'. CROSSNET H2O can fit most pools and can be played in almost any body of water!
How to Play CROSSNET H2O?
CROSSNET H2O is played exactly like original CROSSNET, just in the water! However, we're all for creativity so feel free to make it your own, Tag us in any footage you get @crossnetgame!
What Does CROSSNET H2O Come With?
CROSSNET H2O comes with net and floating base, travel duffle bag, inflatable neoprene ball, and pump. Dimensions are 13' x 13'.
Where Can I Play CROSSNET H2O?
Any body of water that's for the most part still! If you're playing in a pool, CROSSNET H2O's dimensions are 13' x 13' and fits in most standard pools.
How do you Setup CROSSNET H2O?
More of a visual learned? Watch our H2O assembly video here Step 1: Layout all the pieces. Organize the pieces in categories A, B, C, D. A poles are the larger poles that help shape the net B poles are the mid-length poles meant for the top section of each upright C poles are the smaller footer poles with floaties attached to the pole D poles are the shorter pieces for the bottom section of each upright. Step 2: Create eight crossbars. Take an two A poles (largest pole) and put in a 2-piece connector to make one crossbars, Repeat eight times. Step 3: Create the center upright. Assemble the center upright with one D pipe, two 5-way connectors, one 6-way connector and one B pipe. Step 4: Create the Feet. Take four of the C poles (with the floaties attached) and connect to the 4-piece connector to create one foot. Add one 3-way connector and elbow. Repeat four times to create four feet. Step 5: Assemble the frame. Connect two crossbars from the center upright to one of the side feet. Repeat this four times to build the four-way frame. Step 6: Velcro the sides of the nets to the upright. Step 7: Place CROSSNET in the pool Step 8: Attach the anchor bags to each corner (4 times total) Step 9: Inflate beach ball and play!
What is the Doubles Net?
The Doubles Net is a seperate add-on item. You must have the original CROSSNET set to use. Our Doubles Net allows for CROSSNET to be a team sport. Two players are in each sqaure and the game now allows for three hits instead of one! The Doubles Net is 23' x 23', with each square being 11.5' x 11.5'.
How do I Play CROSSNET Doubles?
Same rules, just now each square holds a team of two! You also now get three hits total (bump, set, spike!)
What Comes With CROSSNET Doubles?
Our CROSSNET Doubles is just an add on net. The net turns your original CROSSNET set into a team sport. YOU MUST HAVE THE ORIGINAL CROSSNET SET TO PLAY!
How do I Set Up CROSSNET Doubles?
Set up CROSSNET as normal, just simply trade out the original CROSSNET net for the CROSSNET Doubles net. It's as easy as that!
What are the Indoor Bases?
Our indoor bases are an add-on item that allow you to take play CROSSNET indoors or on concrete surfaces. Simply place each base at the bottom of each corner of the net and take the fun indoors or make your favorite team's tailgate even better and set up in the parking lot! PLEASE NOTE YOU MUST HAVE A CROSSNET IN ORDER TO USE THE INDOOR BASES.
How do I Setup the Indoor Bases?
Assembly is quick and easy! 1. Remove fixed shaft from empty base. 2. Insert bottom steel tube through empty base. 3. Slide circular fixed shaft over steel tube and tighten. 4. Remove top cap & fill with water or sand. Close cap shut. 5. Repeat for all 4 bases. 6. Position bases on playing surface. Clip in steel tubes 7. Slip the sleeve of the net over each tube and clip the tension string from the top pole to the base. 8. Tighten all 4 tension strings with buckle adjusters.
How Long is Set Up?
Setup time typically ranges from five to ten minutes. We suggest having all players involved in helping make setup more efficient.
What Comes in the Box?
Our CROSSNET set comes with: 1 CROSSNET Net 1 CROSSNET Volleyball 12 Spring Fastener Poles 4 Tension Strings 1 Outer Boundary 1 Volleyball Pump
Assembly Instructions
Visit our website to learn more
Product Dimensions?
CROSSNET is 13' x 13' when fully set up and is size adjustable to men's, women's, and children's volleyball heights. You can think of the setup space needed as half the size of a traditional volleyball net. We have found CROSSNET to fit in almost every front and backyard and is easily stored in our travel backpack. For more information on dimensions visit our product page here
How do I Become a Wholesaler?
Email us at info@crossnetgame.com or fill out our wholesale application at https://www.crossnetgame.com/pages/wholesale
Do you Offer School Discounts?
Yes, we do! Please send us an email at info@crossnetgame.com or visit our "School Purchases" page at https://www.crossnetgame.com/pages/school-purchases
Which Retail Stores is CROSSNET Sold in?
CROSSNET was launched in early 2018 and is currently sold at a variety of vendors. We are in select Target, Scheels, and Walmart locations and continue to grow every week! We'd love to work with as many retailers as possible, so please send us an email at info@crossnetgame.com if you're interested in working with us or making an introduction.
How do I Become a Brand Ambassador?
Fill out our ambassador application at here
Can I Modify an Order?
Need to change or cancel your order? Email us immediately at info@crossnetgame.com and we will do our absolute best to correct the situation. Once the order is processed and shipped, the order cannot be cancelled.
My Order Arrived Damaged
Please send us clear photos of the damaged item(s), and a detailed description, within 24 hours of delivery to info@crossnetgame.com. We will replace or repair your piece once it is received and the damage is assessed.
I Did Not Receive my Confirmation Email
No worries, we can send it to you! Just contact us at info@crossnetgame.com and we'll resend it.
Can I Cancel my Order?
Yes, you may cancel your order. However, canceled orders are subject to a 20% restocking fee.
Will I Receive a Tracking Number?
Yes, you will automatically receive a tracking number as soon as your order is shipped! If not, please email us at info@crossnetgame.com with your order # and information.
Do you Ship Worldwide?
Yes, we ship worldwide! Some countries may be subject to additional international shipping charges. Please email us at info@crossnetgame.com for specific prices and questions. All orders are shipped via UPS.
Why is my Tracking # Not Updating?
At times, the courier takes time to update their Shipping Portal, but rest assured that if you have received a tracking #, the item has shipped out. Normally, courier will update the shipping portal at that time it arrives to its next destination.
How Long Will it Take to Receive my Order?
You will receive an email that contains tracking information once your item(s) have been shipped. Once shipped out, most domestic orders take anywhere from 3 to 5 business days to arrive depending on the efficiency of your local postal service. However, sometimes backorders do occur which can delay the process. Our goal is always to ship it out to you as soon as possible.
What if my Order was "Returned to Sender?"
If your order has been deemed undeliverable by the post it will be returned back to us within 7 - 10 business days. If we can solve the problem, we will ship it back to you at no additional cost and you will receive another shipping email notification with tracking info. If we can't figure out why it was returned to us, we may reach out to you for address confirmation or a new address before we ship it again.
International Customs and Importing Fees
CROSSNET prides itself on being an international game loved around the world. We will work out shipping arrangements to any country. However, customers are 100% responsible for all international shipping charges, custom fees and importing fees. If an order is rejected by a customer once arriving in the country, the customer will be responsible for a 20% restocking fee and any shipping charges.
Do you Offer Refunds?
Products can be returned for a refund no later than 30 days after purchase.
Products returned after 30 days are eligible for a store credit for the value it was purchased. Products returned and refunds are subject to a 20% restocking fee.
Customers must bear the cost of shipping returned products.
Shipping and handling cannot be refunded for returned goods.
Product must not be opened or a refund may not be issued.
Is it Safe to Enter my Credit Card Information on your Site?
All of your information is protected by SSL, meaning that your information is encrypted and can't be stolen when it's sent across the internet. It's the same type of encryption used by banks. We work with one of the leading global payment providers – PayPal. PayPal is Level 1 PCI certified (the highest level attainable), and uses the most up-to-date SSL and encryption security techniques to ensure all payments flowing through their platform are protected.
When will my Card be Charged?
Your card is charged immediately after you make your purchase. For security reasons and the length of time it takes to produce each item, we cannot hold pending charges in our system and charge you when the item ships. See our Refund Policy to learn more about when we issue refunds.
How do I Enter a Discount Code?
You can enter your discount code in the "Discount Code" section located on the purchase page.
Shop now